Buyer's Guide
RV Sales Buyer's Guide
There are wide range of new and used RVs for sale in BC. From the larger Class A motorhome to the compact Class B camper vans, to the Class C, an RV takes transportation and living quarters, blends them together to create a one of a kind camping experience. There's something for everyone, from compact and space saving models to luxury buses that can pull a family car.
Finding and buying your RV is never and easy task. Of all the new and used RVs for sale in BC, which is right for you? We've put together this guide to help you.
Learn more below!
There are a lot of motorhomes for sale in BC, because motorhomes offer a way to be comfortable on and off the road. Whether you're interested in a used RV or a new RV there are 3 classes of motorhomes common in BC.
Class A Motorhomes
Class A motorhomes are the biggest motorhomes for sale in BC. They're made on a special chassis and powered by gas or diesel engines. You'll get the most square footage, with sizes ranging anywhere from 29' to 45' long.
Of all the motorhomes for sale in BC, these will give you all the features of a small apartment, plus a lot of custom options are available or they can be added later. If you are looking for a Class A motorhomes consider how comfortable you will be driving it on the road. No special license is required, unless the vehicle has air brakes.
Often people will tow a small vehicle for daytrips. You could also tow your boat or a golf cart.
Many have slide-out sections that increase the living space at the touch of a button. Of course, you'll find options like custom cabinets in the kitchen, unique layouts for the bathroom, stunning entertainment centers and as well as heating and air conditioning.
Class B Motorhomes
Even though they are between Class A and Class C, Class B motorhomes are the smallest motorhome type.
You might also hear them called camper vans. They look like an oversized van. Class B motorhomes generally can sleep up to four people. They are easy to drive and of course are easy to park.
The cabin in a Class B motorhome is smaller, which can be positive or negative. Since Class B motorhomes are smaller, they are less expensive, easier to drive, and park. Naturally, they consume less gas.
Class B motorhomes are marvels of clever engineering and space management! They feature kitchens, washrooms with showers, all in a van.
Your Class B motorhome will be easy to pack and drives just like a large van. If you are a spontaneous adventurer the Class B motorhomes, might be the best motorhome for sale in BC for you.
Class C Motorhomes
Class C motorhomes are the middle ground between Class A motorhomes and Class B motorhomes. Some people will say they look like a large camper van, with an overhead cabin above the driver's seat. This overhead spot is often used for sleeping or storage.
A Class C motorhome typically sleep up to eight people.
Class C motorhomes give you more space than Class B motorhomes, but still provide the luxuries and space you want.
That distinctive cab-over bunk is the icon of Class C motorhomes.
We have a great selection of Class C motorhomes for sale in BC — we think they're perfect for a family. It's a home that you can drive anywhere! Many are capable of towing a boat or trailer — even a small family car.
A truck camper (or "camper" for short) is a popular RV option due to its flexibility. A truck camper is a slide-in camper that is made to fit in the bed of your pickup. From there, there's a wide range of options and equipment available.
New and Used Campers Retain Their Value
One thing to know whether you are shopping used or new, campers don't depreciate as quickly as cars do so the price difference will be marginal.
Campers Are Convenient
A camper is convenient for a lot of people—which might be why you see so many of these RVs for sale in BC! Truck campers are a great way to go places that aren't possible with other campers. Owners find they can take the trips when they want, and that they save money compared to trailers.
Before you look at RVs for sale, find out about your truck. The manufacturer will have listed a maximum gross weight that your truck can carry. This weight limit is different from a truck's towing capacity, because the weight is carried differently. Usually you can find the maximum weight on the edge of the driver door or in your manual.
The Look & Layout
On the outside (example)
On the inside (example)
If you've never owned a trailer, there are a few things that you will need to know before shopping for a travel trailer. Chemo RV offers a wide selection of travel trailers for sale in BC and we can help you find the perfect camper for your family and your budget.
Know Your Tow
First, how much camper can your vehicle tow. That will determine if you need to shop for a tent trailer for sale in BC or a travel trailer.
The tow ratings should be in your owner's manual. Know exactly how much your specific vehicle can tow, and then choose a tent trailer or travel trailer that is well below your max tow rating. Because remember, you will be adding camping gear, passengers and food to your weight.
Comes Equipped
A travel trailer is a huge leap from tent camping and travel trailers can accommodate two to four adults, some bigger models have room for eight. Travel trailers come equipped with an everything you need, from a fridge and stove, dinette and couches — some have full bathroom/shower combinations.
A tent trailer or pop-up trailer will have fiberglass tops with canvas sidings to keep weight down. When shopping for new or used travel trailers in BC, the next step up is a lightweight trailer, with a combination of hard sides and canvas pop outs.
These light weight trailers are more economical in both purchase price and long-term ownership. Their lightweight construction and collapsible design offers easy towing. They are perfect for smaller SUVs and light trucks.
5th Wheels
At the other end of the spectrum, you'll find trailers and fifth wheels, which offer opulent camping with plush interiors, full kitchens and a selection of creature comforts. Often these incorporate slides-outs to increase the living space.
Here it starts to blur the line between camping and luxury camping. These well-appointed trailers often are equipped with stoves, and ovens, large refrigerators and enclosed bathrooms.
When you look for travel trailers for sale in BC, think about our great outdoors. Consider the indoor/outdoor audio systems, outdoor bars and other features make them perfect to explore our great outdoors!
On the outside (example)
On the inside (example)
A Toy Hauler is an RV that provides room to live and room for storage of… well - toys! Grown-up toys, like motorcycles, ATVs, and snowmobiles. The nice thing about a toy hauler is that it protects your equipment from the weather, and from thieves. Toy haulers are popular and manufacturers are building a variety of designs and styles.
The Layout
The back of a typical toy hauler is like a garage, with a large door that allows your toy to come in and out. Generally there's a ramp incorporated. Then up front is a living area. Sometimes the furniture and cupboards fold into the walls or to create more room for storage.
Different Styles
Like all RVs, toy haulers for sale in BC are available in a variety of styles.
Look for features like a built-in generator for electricity when hookups aren't available. You can have a refueling station to top up your tank every day. And on the living side, you can go large with king-size beds, full bathrooms, and kitchens.
Typically, these RVs have high ceilings to accommodate the cargo. Some toy haulers for sale in BC have walls that separate their living and storage areas, and some don't — it's one of the big choices to make when choosing the design that's best for you!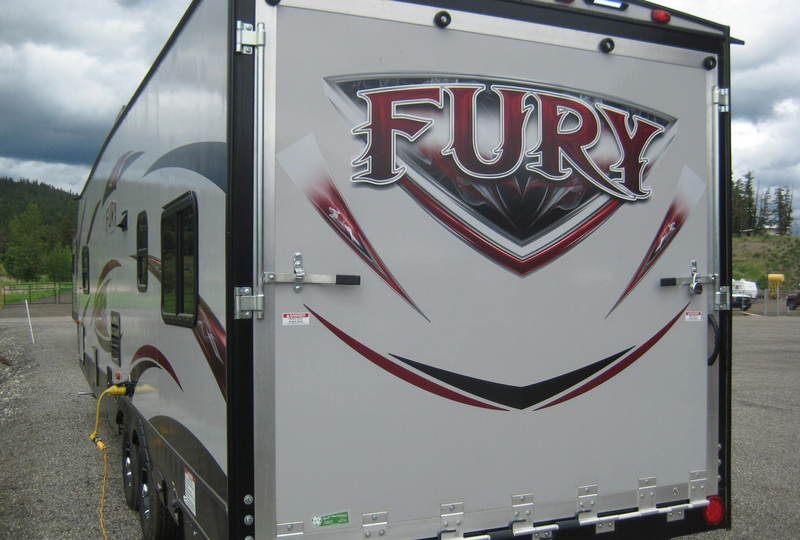 Tent Trailers are the perfect trailers for families and first-time RVers. They are easy to tow, lightweight, and have lots of room to sleep and live. Chemo offers tent trailers for sale at our RV dealerships in BC.
These trailers are generally fairly inexpensive, yet offer a good amount of sleeping space!
The name says it all—tent trailers really do feel like sleeping in a tent, and offer the advantages that come with camping in a tent. You can feel closer to your environment as you can hear the nature around you, and feel the weather around you without being affected by it. You truly feel like you're sleeping outdoors.
Tent trailers are generally inexpensive to buy, when compared to other types of RVs for sale in BC. They are easy to store, and easy to tow with almost any vehicle. It's so light—it feels like air when you pull it.
Are you looking to trade in your RV for something new—or new-to-you—for the next camping season? Chemo RV is your one-stop shop RV trader in BC. Whether you're trading your unit for a new or used one—here is an overview of what you can expect when trading in your RV.
You will be asked questions about the condition of your RV
Just like when you sell your used vehicle, you'll be asked to provide information about the condition of your RV. You'll be asked questions like whether your RV has ever had any damage or repairs, and when it was last serviced. This will help determine its current value. Generally, the better condition (or nicer looking) the RV, the more valuable it is.
You will be asked if you bought it new or used
Just like disclosing when your vehicle was last serviced, your RV trader will also want to know if you bought your RV new or used. This will also help determine the current trade value.
You will be asked if you own it
Owning your RV outright will play a role in the trade-in value. If you fully own your RV and are no longer financing it, the final trade-in value will simply be deducted from the new or used RV that you're trading for. In this case, you'll need to provide payout information. If you are still financing your RV, you may either be credited or owe the remaining difference on your loan.
You will be asked why you want to trade
It helps for us to know what you are in the market for and what you don't like about your current model. When your RV trader has this knowledge, they'll be able to recommend the best fit for your next RV.
You may be asked to fill out an appraisal form
Your RV trader will want to inspect what you're trading in. Sometimes, it's difficult to find time to bring your RV down to your trader—but, it's still possible to get the ball rolling on your trade until you can come in. If your RV hasn't been seen by your trader yet, they may ask you to sign an appraisal form that outlines the condition of your unit. This will help your trader get a general sense of the condition of your RV and its trade-in value.
Expect your RV trade-in to be sold at the market price
If you want to get a sense of what the market price is for your RV, its best to look online to see what model you're trading-in is currently selling for. When you're searching for the market price, make sure you search the exact year and make and model of your unit in order to get the most accurate market price. Knowing the market price before selecting your new or used RV will give you a good idea of the value or equivalent price of your trade-in.
Your RV trade-in will need to be reconditioned
Whether you just bought your RV last year or you've had it for a decade, it is standard procedure to recondition and recertify all our trade-ins before we resell them. Our priority is safety and offering units in their best condition. While the cost to recondition and recertify your RV has to be factored into its trade-value, you'll save any difference incurred on your trade. Trade-in units do not have additional taxes added, while new and used RVs do.
FAQ
What should I expect when trading in my RV?
You will be asked questions about the condition of your RV
You will be asked if you bought it new or used
You will be asked if you own it
You will be asked why you want to trade
You may be asked to fill out an appraisal form
Expect your RV trade-in to be sold at the market price
Your RV trade-in will need to be reconditioned
Whether it's for safety, enjoyment or maintenance—RV parts are important additions. RV parts and accessories can help preserve your unit and even save your RV trip if you get caught in a mechanical bind! Just like when you pack all the essentials for a camping trip, stocking up on the right parts and accessories is necessary.
Here are five essential RV parts and accessories that will enhance your RVing experience!
Tool Kit
Just like the tool kit that you keep at home to make quick fixes, it's good to have a tool kit when you head out on the road in your RV. You don't want to find yourself stuck if something happens to go wrong with your unit halfway into your trip!
Whether you buy a toolkit or assemble one from scratch, some important tools that you should always include for common RV problems are: screwdrivers, an adjustable wrench, a hammer, bungee cords with hooks, duct tape, a tire gauge, silicone and an assortment of nuts and bolts.
RV cover
RV covers help keep your RV in its top condition by protecting it from the elements. Why not just use a tarp? RV covers protect against mildew-causing moisture—while tarps don't. In fact, tarps actually trap moisture in your unit and can cause more damage than using nothing at all. A cover is a simple way to help preserve and maintain your RV.
RV covers also help protect against UV rays, as long-term sun exposure can decrease the value of your unit. It can also help prevent insects and rodents from entering your unit during the winter. No one wants to open their RV in the spring to find a bunch of critters camped out in their unit!
Spare breakaway cable
When you tow your RV with a breakaway switch, the breakaway cable attaches the switch to your unit. If an issue occurs when you're towing your RV and it separates from your vehicle, the cable will activate the breakaway switch and help slow the unit down. Should that cable get worn out—or even break—it's wise to keep a spare one in your vehicle in case you have to reattach your unit.
Emergency sewer hose
Your RV's sewer hose helps clean your unit of waste and water by connecting your RV's toilet to an external sewage system. With use, your sewer hose can become worn and develop leaks. That's why you should always bring a spare hose when you head out in your RV—it may save you from a messy job!
Mosquito coils
Pesky mosquitos always find their way into campsites—especially in Interior BC. Mosquito coils are a good solution to keeping them at bay. The coils smoulder, creating a continuous fume that repels mosquitos. They should only be used in outdoor spaces. Avoid using them inside, as they can be dangerous to inhale in a confined space. Place the coil in a common area outside of your RV and enjoy a summer free from mosquito bites!
We have a great selection of RV parts and accessories for sale. Check out our Parts and Accessory Guide here.
FAQ
What are some essential RV parts and accessories?
RV tool kit
RV cover
Spare breakaway cable
Emergency sewer hose
Mosquito coils
Deciding between a motorhome or travel trailer is the age-old decision for RVers. With so many different RVs for sale, it can be difficult to narrow down your options to find the perfect one.
We'll help you get started! Here are some points to consider when deciding which type of RV will be the best fit for your family's lifestyle.
Towing Capacity
Keeping your towing capacity in mind is very important when you're looking at which RV to buy.
In order to transport a travel trailer, you will need a vehicle with towing capacity. While most SUVs, vans and trucks have towing capacity enough to haul a travel trailer—it's a good idea to find out exactly what your vehicle's towing capacity is before you start shopping. You can check with your vehicle manufacturer or manual to confirm its towing capacity, or use resources that are available online.
If your vehicle does have towing capacity, a travel trailer offers a great RV experience! With the right hitch on your vehicle, you can easily transport your trailer to your destination. Most campers prefer to unhitch when they arrive so they can freely use their vehicle to explore until it's time to head home.
If you don't have towing capacity, a motorhome is a great RV option. Motorhomes don't require a vehicle with towing capacity, as the units are themselves motorized. Still want to bring a vehicle along? Class A and Class C motorhomes can tow most vehicles—so you can freely go out on day trips while you leave your motorhome parked at your site!
Length of Trips
Are you a weekend camper or long-haul camper? This can also help determine which RV is best for you.
If you like to set up camp for an extended time a travel trailer may be your best option. With a travel trailer, you have to hitch it to your vehicle to transport it. If you're planning on staying at the same campsite for an extended period of time, you don't have to worry about hitching your trailer to your vehicle every time you want to move locations. You can just kick back and relax until it's time to pack up and head home.
Motorhomes are self-propelled and designed to be mobile—so they're great for those quick weekend trips where you want to get a change of scenery for a couple days! They're also a great option if you're planning to stop and camp at multiple different locations. They don't need to be hitched up to a vehicle, so you can simply get up and go with ease.
Costs
Just how there are costs that come with owning and maintaining a house, your home on wheels will have a variety of maintenance costs. But, like choosing between different types of homes, RV units have unique needs and cost savings.
While motorhomes are typically more expensive to purchase than travel trailers, you can save money on fuel when travelling. Because motorhomes are self-propelled and aren't pulling a large amount of weight—unless you are towing your vehicle— you can save on fuel! Travel trailers can be a more inexpensive option to purchase but towing a travel trailer with your vehicle can also decrease fuel efficiency.
When it comes to maintenance, motorhomes are more susceptible to repairs due to having an engine and transmission that need to be maintained. Because travel trailers aren't motorized, they typically need fewer repairs and usually have lower repair costs.
Family Size
Motorhomes and travel trailers come in a variety of different sizes and floorplans that can accommodate any size of family.
Class A and Class C motorhomes are the most spacious motorhome options, while fifth wheel trailers are the biggest travel trailers. Whether you're interested in a trailer or a motorhome, you'll be able to find one that can fit a large family or just a couple of people.
If you're interested in testing out a motorhome or travel trailer, check out our RV rentals. Think you've made up your mind? We have one of the largest selections of new and used RVs for sale at our dealership.
FAQ
Should I get a motorhome or travel trailer?
Here are some points to consider when deciding which type of RV will be the best fit for your family's lifestyle:
Towing capacity
Length of trips
Costs
Family size